President:Sadaaki Sakagami 

Address:
1-16-5 Honcho-dori, Tsurumi-ku, Yokohama-shi, Kanagawa 230-0048
Telephone number :+81-45-521-6318
Fax number :+81-45-503-2040


---
Class schedule
Children's class:Wednesday and Friday 6:00-7:30 PM
Adults' class: Wednesday and Friday 7:40-9:10 PM
---
Admission fee(Children & junior high school students):\7,000,
(High school students & adults):\8,000
Monthly fee(Children & junior high school students):\6,500,
(High school students & adults):\7,500
*Visit and see us practice. Free trial practice is provided.
---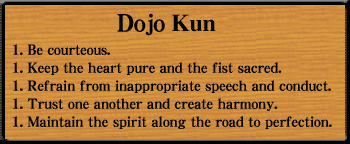 To perfect humanity
We put emphasis on basic Ido (movement) practice in our curriculum. As advanced techniques, we teach students to learn Bunkai (application) of Kata and the necessary techniques of Kumite. We practice with the view that postures for attack and defense under any circumstances can be assumed from basic techniques.

It is necessary to practice Karate in accordance with competition rules, but at the same time we need to pursue authentic traditional Karate which is not merely competition Karate. Our Dojo's mission is to make people from every age bracket understand the benefits of Karatedo and the pleasure of practice in a group, and to develop the personal strengths and to continue practice over a long period.

We train students hard with the motto "Continuity is power", and make them devote themselves to practice and prioritize self-awareness, responsibility and courtesy to become useful individuals in society.
For children to grow body and mind and learn courtesy
For young person to exercise and train spiri
For women to keep beauty and for self-defense
For middle-aged and elderly people to keep youth and health
Join us, kids bullied at school, and let's build a base for strong mind and body.
Let's practice together. Our instructor will teach beginners step by step.
---
Dojo Information
With the concept of "Minato Mirai Yokohama (Yokohama-port the future)", the international city of Yokohama strives to develop coastal green areas. Yokohama is also famous for leisure spots such as the Bay Bridge.

The Head Dojo, which is located close to Tsurumi River, is an eight minute walk from Tsurumi Station. When this Dojo was established, it was the biggest private Dojo in the neighborhood.

Since then, our Dojo has taken root in the area. Another characteristic of this Dojo is that we have many students whose family members also study in our Dojo.

Foreign students also visit and study in the International Head Dojo frequently and our students play a role in international exchanges of friendship and understanding.
---
About KENDO, IAIDO, JODO
 Upon the establishment of the Dojo, departments of Kendo, Iaido, and Jodo were established, and our existence as a pioneer Dojo of general martial arts has been acknowledged. Our Dojo, named "Genbu-kan Sakagami Dojo" has been popular among martial artists in the neighborhood under the instruction of Ryusho Sakagami (the 1st president) and Sadaaki Sakagami (the 2nd president).

 Mr. Masahiro Miyazaki, who was a champion 6 times at the National Kendo Championships, and Mr. Fumihiro Miyazaki, who was a champion once and is a younger brother of Masahiro, are from Sakagami Dojo. Other students are also practicing hard to be the next champion.